Residential fencing is an excellent way to define your property boundaries. It is a deterrent to trespassers and provides an additional line of defense. If you are planning to create a fence around your property, it is best to choose a durable material that will last for years. There are four main types of residential fencing, each with its own pros and cons. Learning about each type of residential fence will help you decide which one is right for your property.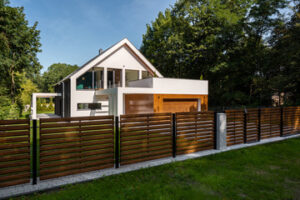 Fencing can add value to your home, provide privacy, keep pets contained, and protect children from wandering off. They can also prevent unsupervised dips into swimming pools. Most residential fences have a strong aesthetic statement. Most American homes have featured wood fences for centuries. They are inexpensive, lightweight, and easily available. Additionally, there are dozens of styles to choose from.
Residential fencing can also help you improve the value of your property. A well-designed fence can add architectural value and make a property look more appealing. Moreover, it can protect your landscaping from animals, people walking through your yard, and weather conditions. You can choose between simple privacy fences and decorative ones to complement your property.
Aside from adding security to your property, residential fencing can also provide you with a sense of privacy. Privacy is important for many homeowners and can make you feel safe and comfortable while relaxing in your backyard. In addition to adding security, residential fences can also enhance curb appeal and help you sell your property faster.
Wood residential fences are the most common type of residential fence in America, and they offer privacy, durability, and affordability. Wood fences are also highly versatile and can last for generations. There are many different styles of wooden residential fencing, and the color and stain you choose will depend on your taste and preference. Pressure-treated wood is the best material for structural and longevity purposes.
If you are concerned about privacy, you can choose a dark fence. This type of fence will blend in with the surrounding landscape. You can also plant vigorous vines to solve privacy issues. PVC fencing is also a low-maintenance option. It will make your property look elegant and will add a unique touch to your property.
Before installing a fence, you must make sure that there are no underground utility lines in the area. After you have the measurements of the posts, you can cut and adjust the fence panels according to the size of the property. Then, you can mark the placement of the posts using an on-center spacing chart. If you need more clarification about the boundaries of your property, get a survey.
Aluminum fencing is another great choice for residential fencing. These fences are durable, attractive, and rust-resistant. They are also low-maintenance and come in a wide range of colors. Whether you are looking for a fence to protect your property or to make it stand out from the neighborhood, these fences are a great choice.
When you hire a fence contractor, you want to find out the cost of the job before the work starts. This is especially important because fence installation takes a lot of time. However, it is possible to make the job faster by hiring a company with a time tracking software or taking photos and notes while working. Another important aspect of pricing is the materials used. To determine the cost of your project, measure the area of the fencing and make a list of materials.
Before you hire a fence contractor, there are several things you should consider. Make sure you choose a fence contractor with a crew large enough to handle the entire project. Another, check whether the fence contractor will use subcontractors to complete the project, as it will affect the timetable. And lastly, make sure you calculate all costs before hiring a contractor so that you can budget accordingly.
When hiring a fence contractor, choosing one who is licensed and insured is important. A reputable company will be able to provide you with a license number and insurance details. This information is important because they prove the legitimacy of a company. Another important thing to look for is a written contract that outlines the scope of work, additional costs, and timeline. It also should clearly define who is responsible for which tasks.