A plumber has several different jobs, but his main focus is installing potable water systems. Plumber can work with sewage and drainage systems. He is responsible for fixing pipes and repairing clogged drains. A plumber should have extensive knowledge of plumbing and be able to solve problems efficiently. In addition, he should have knowledge of different types of plumbing supplies.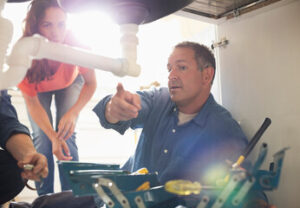 A plumber's job description is complex and often requires a high level of technical proficiency. They must be able to work in tight spaces and be adept at using different tools and equipment. They must also be able to effectively communicate with customers and explain complex concepts to them. While formal education is not a requirement, many employers prefer those who have attended college or trade school. A plumber must be physically fit and have a good understanding of mathematics and science.
As part of the plumbing industry, plumbers are responsible for installing, repairing, and maintaining plumbing systems. This job involves working with all kinds of systems, including water, gas, and sewage. They are also responsible for ensuring that these systems operate properly and are not causing problems. Because plumbers are responsible for many aspects of plumbing, they must be able to communicate well with clients, as they may be the only ones the client interacts with. Keeping detailed records is also a key aspect of a plumber's job description.
Plumbing jobs can range from small residential jobs to large industrial projects, including factories. These jobs are varied, and they can include installing fixtures, water heaters, dishwashers, and water filters. Plumbers are also responsible for troubleshooting broken pipes.
A plumber is a career that involves dealing with complicated plumbing systems. The job requires an analytical mind and the ability to reason and come up with solutions to problems. Plumbing systems are constantly changing, so plumbers must keep abreast of the latest technology. Some plumbers specialize in air conditioning or sanitation, and they can move up to a management role if they work in a team. They can also become an instructor at local colleges or become a subcontractor.
In order to become a plumber, you must have a high school diploma or GED. You should have a strong foundation in math, science, and technology. You should also have some experience working with tools in a tradecraft environment. You should also be organized and efficient in performing job site tasks. You should also be physically fit in order to perform the job well.
You may need to pass a plumbing licensing exam depending on where you wish to work. Some states require you to complete a written exam, while others require practical skills. The exam will test all of the things you have learned in your training and practical skills. Most of the questions you will encounter on the exam are familiar to those you've already been doing as an apprentice.
A plumber's salary varies greatly by location. The cost of living in a particular city and the need for services in the area can influence the compensation package. In large cities, plumbers provide services to large businesses while those in smaller towns mainly serve residential properties. In addition to residential plumbing, plumbers can also work in commercial settings, such as the repair and maintenance of pipes. There are also agricultural plumbers who build drainage systems.
Plumbing work requires problem-solving abilities. These professionals must be able to evaluate situations quickly and determine the best course of action. Additionally, they must be able to organize their time well in order to get the job done. This can help them maximize their earning potential. There are several ways to increase the salary of a plumber.